Pregnancy Acne: What are the causes?
Pregnancy can bring joy and excitement as well as a whole host of physical changes, some of which are unwelcome. Pregnancy acne is one of these unpleasant realities that many expectant mums may face at some stage during their nine months.
Our team at The Dermatology Clinic London is here to explain exactly what causes this condition and how you can protect your skin from further breakouts. We'll also help you to understand which acne-reducing treatments are safe during pregnancy and which treatments you should avoid.
What is Pregnancy Acne?
Pregnancy acne is a common condition caused by hormonal changes during pregnancy, resulting in the development of breakouts and spots on the face and body. It can vary in severity from whiteheads or blackheads to more severe cystic lesions—which can be painful. Based upon recent studies1-3 up to 43% of women experience acne vulgaris during pregnancy and whilst breastfeeding.
What Causes Pregnancy Acne?
Although the cause is not well understood, several hormonal and physiologic changes during pregnancy may contribute to acne development 4 . Pregnancy acne is caused by a combination of hormonal changes, which can increase oil production and clogged pores, resulting in breakouts.
Acne in pregnancy can consist of inflamed spots, extending onto the trunk, and may be most severe during the second and third trimesters.
Risk factors associated with more severe acne in pregnancy include young age (age ≤ 25 years), first pregnancy, a history of previous irregular menstrual cycles and polycystic ovary syndrome. However, these links to acne severity are not universally agreed upon in the medical literature.
Regular acne can be caused by hormonal changes—similar to pregnancy acne—but diet and nutrition play a part as well. People who suffer from regular acne can make lifestyle changes to try to eat foods with low sugar content to improve their acne, the published evidence in pregnant women specifically is not available and eating healthily during pregnancy is recommended and may improve the acne as well.
How to Prevent Pregnancy Acne
Preventing pregnancy acne is an important part of protecting the health and well-being of expectant mums. In addition to scarring, acne can create unnecessary emotional distress for soon-to-be mums. Taking proper care of your skin with a good skincare routine can help to reduce the risk of developing breakouts.
Firstly, it is essential to keep your skin clean by washing it twice daily with a gentle cleanser specifically designed for sensitive or acne-prone skin. Avoid using harsh soaps or exfoliants as these can strip away natural oils and damage delicate tissue.
Secondly, keeping skin hydrated using a moisturiser that is non comedogenic or oil-free may help reduce blocked pores which may in turn have increased your risk of developing acne.
Lastly, when in the sun use non-comedogenic sunscreen on exposed areas. By following these simple steps you can ensure your skin stays healthy throughout pregnancy whilst minimising the risk of developing unwanted spots or blemishes.
Need Help Treating Your Pregnancy Acne?
If you're looking for help treating your acne during pregnancy, look no further than The Dermatology Clinic London. Our experienced team of specialists is well-versed in dealing with skin issues during pregnancy and can provide expert advice on the best course of action to take when tackling breakouts associated with this condition.
During your appointment at The Dermatology Clinic London, we will assess your individual needs and develop a tailored treatment plan that is safe for use during pregnancy. This may include topical creams or lotions which have been proven to be effective in reducing inflammation caused by acne without posing any risk to the mother or baby.
At The Dermatology Clinic London, we understand how difficult it can be to deal with skin problems while pregnant. We make sure to provide personalized advice for each patient based on their specific needs, while also taking into account any safety concerns related to the treatments.
In conclusion, it's important to understand what pregnancy acne is, which includes the possible causes and potential treatments. It can be a tough condition to tackle… If you are struggling with pregnancy acne or need further advice on the best way to treat your skin,  contact us today and let us help you get clearer skin safely throughout your nine months.
References
1.Hoefel I da R, Weber MB, Manzoni APD, Lovato BH, Bonamigo RR. striae gravidarum, acne, facial spots, and hair disorders: risk factors in a study with 1284 puerperal patients. J Preg. Hindawi; 2020;2020. [PMC free article] [PubMed
2.Ayanlowo OO, Otrofanowie E, Shorunmu TO, Adegbola O. Pregnancy dermatoses: a study of patients attending antenatal clinics at two tertiary care centers in southwest Nigeria. Haraka Publishing Platform; 2020.
3.Dréno B, Blouin E, Moyse D, Bodokh I, Knol AC, Khammari A. Acne in pregnant women: a French survey. Acta Derm Venereol. 2014;94:82–83. [PubMed]
4.Yang C-C, Huang Y-T, Yu C-H, Wu M-C, Hsu C-C, Chen W. Inflammatory facial acne during uncomplicated  pregnancy and post-partum in adult women. J Eur Acad Dermatol Venereol England. 2016;30:1787–1789 [Pubmed]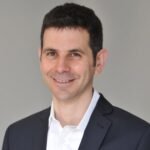 Medically reviewed by Dr. Daniel Glass
UK trained Consultant Dermatologist Dr Daniel Glass is a General Medical Council registered skin specialist, qualified in both adult and paediatric Dermatology.